Window Coverings - Getting Started
Getting Started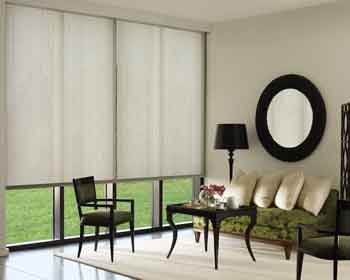 Hunter Douglas
Style: Designer Roller Shades with Standard Clutch
Window coverings are not an option! Every home has to have window coverings. If you don't purchase them before you move in, you will have to purchase window coverings and will usually do so within 30 days of move-in. It's important to be aware of the many advantages of purchasing window coverings before you move into your new home or when remodeling your home.
Window coverings bring immediate privacy and a sense of security.
Questions to ask yourself
What activities are going to be done in this room?
Keeping these activities in mind will help you determine the answers to the following questions.
What are my privacy and light control needs?
How do your windows open?
You will want to look at the window layout of your home and determine how each window opens and consider how often you will want to access them.  There are many different styles of windows.  Some windows open up, some out and some in, while some go side-to-side.
If you are covering sliding glass doors, are they opened often? This is an important question to ask because you might design a beautiful window covering, but if it doesn't fit the function, you will be unhappy with the result.  Keep in mind that you will want a window treatment that is easy to lift and stacks nicely for windows that you will open often or for sliding glass doors.
Are you shopping for any specialty or unusually shaped windows?
There are many interesting window shapes and your window treatments may need a bit of special attention.  There are arched or palladian windows, bay windows, skylights, A-frames and casement windows, to name a few.  You also want to remember any doors that will require coverings, such as sliding glass doors and French doors.
Shutters
Do you have children, pets or elderly persons living with you?
Some types of window coverings can pose a safety threat to small children or pets with their pull cords.  There are products that help create a safer environment. Products with cordless operations minimize hazards associated with lift cords.  Additionally, safety tassels and wands are available on several aluminum and vertical blinds.
Is there a need to control temperature or is energy efficiency a concern?
Window coverings make an enormous difference in the enjoyment of a home. Besides adding to the beauty of the rooms, they can reduce the heating and air conditioning costs. You will want to consider the heat in the summer and cold in the winter, along with the exposure of the room - does it face north, south, east or west?
North facing windows provide the most consistent light but also the coldest exposure.  For these windows, it's wise to consider energy efficient window treatments.
South facing windows receive good light year-round.  Light diffusing treatments help protect upholstered furniture from the sun.
East facing windows admit warm, bright light, especially in the morning.  You will want to consider window treatments that help block ultraviolet rays.
West facing windows admit the hottest, haziest light of the day.  Light diffusing window treatments are best in these areas.
It's important to know that sunny windows make air conditioners work two to three times harder, while in colder seasons, heat lost through windows can account for 10 to 25 percent of the heating bill.  Honeycomb shades are well known for their energy efficient components.