Window Coverings - Measuring and Installation
Measuring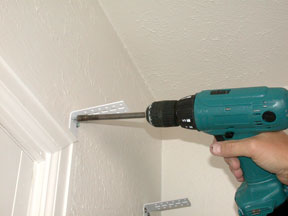 Different window covering products require different measurements for an accurate installation.
Windows and the window covering products must be measured precisely for a successful installation.  This often seems easier than it actually is.  Each window covering product has its own installation method and if they are installed incorrectly they will not operate properly.  If you leave the measuring and installation up to a team of professionals you can be assured of perfect fitting window coverings that function correctly.  It's almost like having installation insurance!
Small measuring errors can result in the window covering not operating properly, unwanted light shining through on the sides, top or bottom, or the coverings not fitting the window casing at all – delaying the entire process and costing more in time and money.
Since no two window openings will be exactly the same size, each and every window must be measured.
Only specialty or odd-shaped windows require making a template in the measuring process.
Window sheers can be installed with an inside or outside mount depending on the window molding and sill construction. The depth of the window casing determines whether or not a window covering can be installed with an inside mount.  Mounting bracket sizes vary so this must be checked accurately.
An outside mounted window covering should be considered if you would like the window covering to completely clear the window when open, allowing for more light or a better view.  This is often desirable on patio doors.
For an inside mount, the installer will first check to make sure the inside top of the window casing is level.  If necessary, the installer will level the headrail using shims.
An inside mounted window covering houses the window covering inside the window casing.  An outside mounted window covering fits around or outside the window casing.
With an inside/outside mount, the mounting bracket and headrail are installed inside the window casing, but they are not fully recessed. Thus, a portion of the headrail will not be completely flush with the face of the window.